Short disclaimer that these are pre-covid, which is probably worse for having fun in Rome since the crowds are massive as you will shortly see.
Thinking of going to Rome? Anyone would recommend going on a Roman holiday. The amount of "tourist" locations are so many that I have lost count. Google maps is your friend if you want to find the coliseum or the trevi fountain among other locations. But there are other hidden spots you can find as well if you steer off course. I'll walk through some spots I really enjoyed and yes it will include the Coliseum so let's start with that.
1. The Coliseum

I don't think much needs to be said here, it's a large ancient structure and free to view from the outside for all to see. There is a nice park/courtyard next to it where you can sit and enjoy the day with a nice cup of coffee. If you want to see the inside though you will need a ticket. Yes you can buy the ticket the same day but be prepared for a very long line (assuming Covid is a non-existent thing). The line is about 3 hours or so but it can be avoided if you buy your ticket online in advance. Of course if you are not interested in the inside there is a large hill nearby where you can get a bit of a peak of the inside of the Coliseum if you don't want to spend the money.
2. Fort Ramano

This is more my style. I enjoyed being able to go down and walk through the area and have a much closer look around the pathway. This area also lights up in the evening and there is an audio tour that is free in the evenings where you can have all the historical information mentioned to you as you walk around without the need for a guide. It gives more adventure and information to the traveler without feeling like you are in a guided tour but if you are someone who like that kind of thing then you can easily find tours which include this location as well since it is near the Coliseum.
3. Vatican City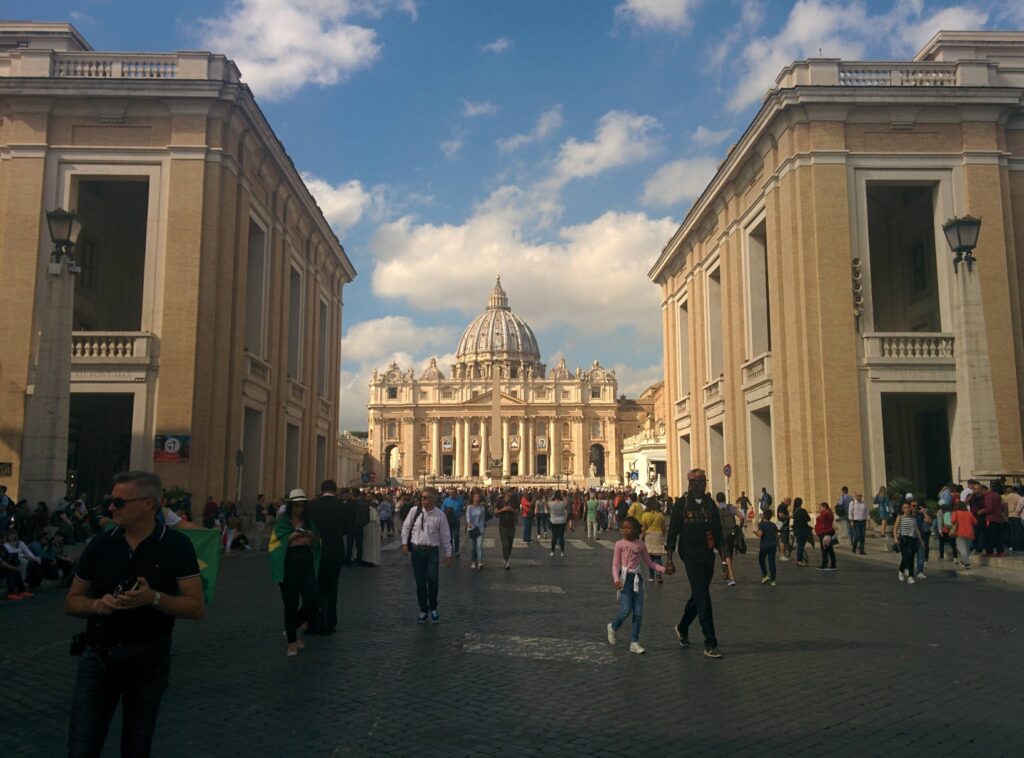 I think this is the last of the obvious locations I will mention. Vatican city is a destination that is very impressive to look at even in this photo which was taken from quite a distance. The structure is massive and well maintained. The details of the building make this landmark more artistic than some of the other tourist spots in Rome. Generally speaking almost all the buildings are quite old and have details but the Vatican had more care and detail taken into consideration due to it being a landmark religious site for Catholic Christians. The outside is free to enjoy but that is the only thing that is free. The inside requires a ticket to be able to go in and yes once again the line is incredibly long. Usually if you don't want to spend time in lines or crowds you must go in the morning. Otherwise, you will be under the sun waiting to go in. Once inside there is plenty of artwork to enjoy by famous artist Michael Angelo for example but there are other exhibits now where you can enjoy replications of the same artwork if you don't happen to be in Rome for the opportunity.
4. Indoor Mall
Time for something different. I think these spots are a bit underrated. There is at least one (that I know of) indoor mall. It isn't very large but it is a fun spot to see since the architecture combines the old style of Rome with updated and boutiques on the inside. It is a also a nice break from the heat and helps to connect the streets in downtown a bit better. This mall is near the tram coming from Via Flaminia. You essentially keep walking straight to the middle alley and you find it there amongst many other boutiques with some excellent clothing and food to buy as souvenirs.
5. Pizza Rustica
Thought I would end off with a food place that was incredible to me. Rome pizza is great, and you can find it everywhere. But Pizza Rustica has some of the best pizza I had there and it was cheap. Just a few euros and you can have a whole pizza with drinks for yourself. Mostly locals are found eating there which is a great sign of a good pizza shop so I would check out this place and probably only eat from there if that can work for you. It upsets me that I have no picture of the place but it is on Via Flaminia near downtown so about a 5 min walk and you should find it there. You can google search for it as well and should be easy to find.
Just a quick list of some obvious and not so obvious spots in Rome and what to do there, maybe I'll do this again!